Newsletter 2023/2
The spring surveys have concluded successfully. In total, 1494 people across the four cohorts participated in the survey, yielding an impressive response rate of 56%. We extend our gratitude to all participants for generously dedicating their time and energy. We highly appreciate each contribution! Currently, we are preparing the data and accompanying documentation for the publication of the complete 2022 datasets.
The majority of parents relies on external day care
A substantial majority (79%) of participating parents disclosed their dependence on external daycare or day schools for their children. Approximately one third (34%) mentioned that other family or household members, distinct from the parents, look after their children.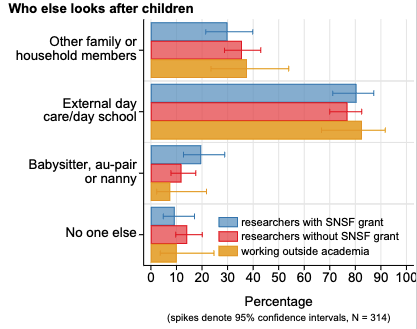 Mental well-being is lower than physical well-being – particularly for women
Intriguingly, a noteworthy gender disparity emerged in the context of mental wellbeing, with male participants indicating a higher average score compared to their female counterparts (mean = 3.6 vs. mean = 3.4, p = 0.025).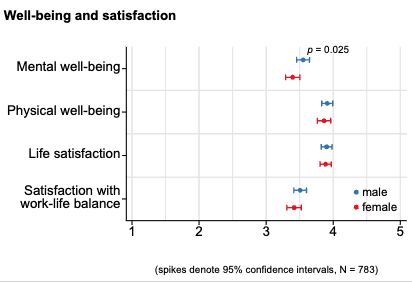 Want to read more?
Download Newsletter 2023/2 [.pdf] / Download older newsletters
---
Newsletter 2023/1
This year marks the fifth anniversary of the CTC study, and we are looking forward to continuing with the monitoring. Before we start the spring surveys, we are preparing the data collected last fall (2022), when 633 study participants completed a CTC monitoring survey, resulting in an overall response rate of 59%.
More permanent contracts outside academia
Among all the surveyed researchers (with or without a current SNSF grant), the majority have a fixed-term contract (84%). The mean duration of the contracts of researchers without an SNSF grant amounts to 29 months. The contract duration of the researchers with an SNSF grant depends on the respective scheme.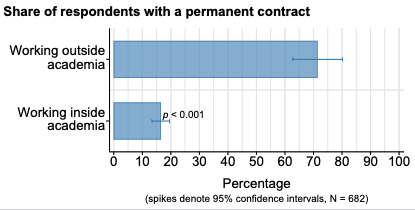 Researchers usually cannot report and compensate overtime
Researchers (with or without an SNSF grant) not only indicated working more hours than people working outside academia, but they also rarely replied that they have to report working hours to their employer. Thus, 20% of all the researchers report working hours, compared to 61% of people working outside academia.
Want to read more?
Download Newsletter 2023/1 [.pdf] / Download older newsletters